Carthay Circle Real Estate, Los Angeles, CA 90048
Who better to tell you about a neighborhood than the neighbors themselves? That's who I am.
My family and I live in Carthay Circle, on Hayes Drive. Being a resident, I have a special affinity for our neighborhood, our neighbors, and the history of Carthay Circle. I hope I can be of service to you, should you have any needs or questions about your home.
Here is some information on our beautiful neighborhood. I hope you find it useful.
– Nikki, your Carthay Circle Real Estate Agent
---
Jump to:
Carthay Circle Homes Currently for Sale
Sorry we are experiencing system issues. Please try again.
Carthay Circle Multi-Unit Properties for Sale
Sorry we are experiencing system issues. Please try again.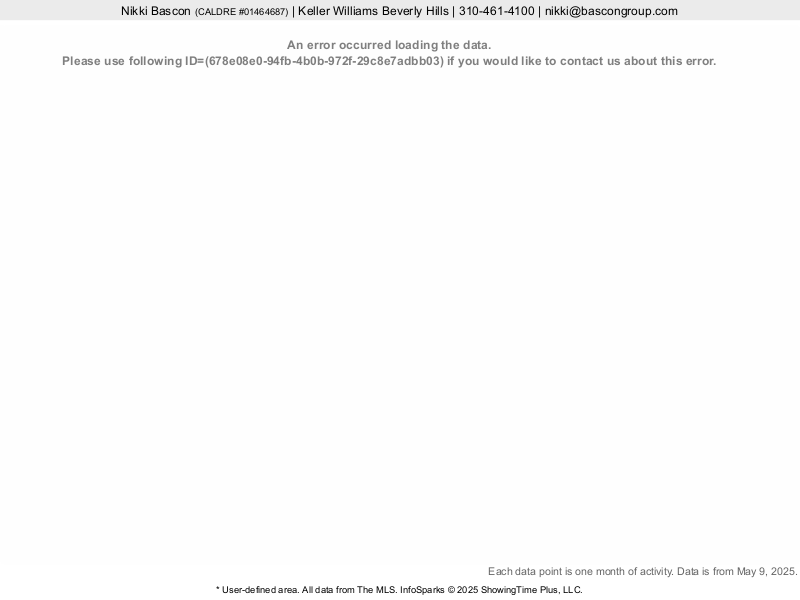 J. Harvey McCarthy developed Carthay Circle, originally called Carthay Center, between 1922 and 1944. He envisioned the neighborhood, named after a variation of his surname, as a complete community with a church, elementary school, hotel, theater, commercial center and a variety of housing opportunities. Captivated by California history, McCarthy named the streets in honor of prominent figures of the California Gold Rush. Carthay Circle was the first subdivision in Los Angeles to be planned with underground utilities, maintaining the streetscape free of the clutter of telephone poles and electric wires. The architecture of this primarily residential HPOZ is dominated by the Spanish Colonial Revival style, in keeping with its founder's fascination with California history, although examples of the Tudor, French, and American Colonial Revival styles can also be found. Once home to the famed Carthay Circle Theater, site of such film premieres as Snow White and Gone with the Wind, the multicolor tiled circular dome atop the theater tower and the circular auditorium inspired the community to change the name from "Carthay Center" to "Carthay Circle."
The Carthay Circle HPOZ Board, comprised of local stakeholders with expertise in building, architecture, preservation and real estate, meets on the 1st and 3rd Thursday of each month, though meetings are canceled if there are no business items to discuss. Meetings take place at the Temple Beth Am, Kopelove Hall, at 1039 South La Cienega Boulevard, Los Angeles, CA 90035. Agendas for HPOZ meetings can be found here.
[Source: http://preservation.lacity.org/hpoz/la/carthay-circle]
CARTHAY CENTER ELEMENTARY
Carthay Center Elementary School opened in 1924 to serve Carthay Center, a subdivision in mid-city Los Angeles planned by developer Harvey J. McCarthy. The school was located just opposite the famous Carthay Circle Theater, which hosted such dazzling movie premieres as "Snow White," "The Wizard of Oz," and "Gone with the Wind." Although the theater was demolished in 1969, the beautiful school building was preserved and remains an architectural centerpiece of the neighborhood.CARTHAY SCHOOL OF ENVIRONMENTAL STUDIES MAGNET
6351 West Olympic Boulevard
Los Angeles, CA 90048
CARTHAY CIRCLE HISTORY
The Carthay Circle has often been considered circular but about the only thing that was round in the circle was the dome of the grand old Carthay Circle Theatre which bore the name of the subdivision. The boundaries of the circle are Fairfax Avenue to the East; La Cienega Boulevard to the West; Olympic Boulevard to the South; Wilshire Boulevard to the North with San Vicente Boulevard (formerly Eulalia Boulevard, named for a mid-wife) cutting a diagonal path throughout her domain. Geographically on a grid, Carthay Circle resembles more of a jigsaw piece in search of a puzzle than the puzzle she is.
Planned and developed in the glamorous era of the exciting '20's, it was J. Harvey McCarthy's hope that this sub-division would be in of a "high class" caliber. In 1924 he hired and directed his architects, Curlett and Beelman to follow his instructions in the planning of this community. The streets were laid on a diagonal.
Land cost at that time was at a premium and fifty (50) foot lots sold for $7,500 !!! The sub-division was the first to have underground utilities, making the area free of unsightly telephone poles and electric wires.
The zoning for the land was primarily for single family structures one story in height. West of McCarthy Vista on Warner the houses should be one story while to the East the homes should be 2 stories. On Del Valle single family and a one story height was the limit. San Vicente on the north side boosts both one and two story structures and the south side is limited to one story even though some of those are duplexes. The duplexes were to continue the single family look of the neighborhood. The same requirements prevailed for Commodore Sloat Drive and the north side of Hayes Drive. Schumacher Drive and Moore Drive were to continue in the single family one story tradition as was the north side of Olympic Blvd.
A portion of Carthay's face to the world is comprised of mini-Mediterranean villas or less than imposing spacious Spanish colonial homes (Mission Revival as some curators are likely to label early California architecture a lure to prospective investors and residents as an invitation to the sunny side of life in Southern California). To round out the architectural theme, there are a trickle of post-WWII homes. Sliding glass doors are conspicuous by their absence.
A gas station was allowed at the corner of Schumacher Drive and Olympic Boulevard and a service station was permitted on Commodore Sloat Drive near a two story business structure which housed Figarts Radio Supply. These businesses faced the Carthay Circle Theatre which was in the center of the sub-division. There was a small market, a bank, a cleaner, a restaurant, and a beauty shop in close juxtaposition to the theatre with walkways and lots of grassy areas, and all were designed to provide convenience to the circle residents.
Land was donated for a public elementary school and a small church building both facing Olympic Boulevard and apartments were permitted to be built east of the church. The apartment building at the intersection of Commodore Sloat Drive and Olympic Boulevard was built in the era of WWII to ease the housing shortage. A special re-zoning was called for to accomplish this.
Carthay Circle commands respect. Subtle. Stable. Sleepy. As J. Harvey McCarthy is not around to answer questions (deceased circa 1935), one speculates who put the extra "a" into Carthay? For phonetic purposes, perhaps?
Looking back McCarthy, developer of the 136-acre tract, had visionary glasses some of us need a prescription for as he had the foresight to forward an architectural survey of the homes in the course of construction or contemplated design, to Washington, D.C. These were included as part of a permanent exhibit of model homes which were added to the National Advisory Council of Better Homes in America archives. Furthermore, a panel of prominent architects at that time considered Carthay, "one of the finest examples of subdivision planning that Los Angeles and Southern California possesses." J. Harvey McCarthy was also responsible for the planning and development of the exclusive Fremont Park Place Area, one of Los Angeles' few gated communities and another prestigious neighborhood.
In connection with the Carthay Center development, and to carry out the architectural features he had in mind, McCarthy employed a staff of architects under the direction of H.W. Bishop, a well known Boston architect of that period. Architecturally the area is filled with significant homes and almost 95 percent of the structures remain unchanged.
Although the some of the pioneers probably never set foot below the Humbolt County Line, Carthay Circle streets bear the names of California pioneers. Forty-niners of the Gold Rush are represented by streets named in their honor:
Foster Drive: Stephen Foster, born in Maine in 1820, a Yale graduate, arrived in Los Angeles with Col. Philip St George Cook's Mormon Battalion in 1846-7 after the Treaty of Cahuenga. He worked as an interpreter for the Americans. With Abel Stearns he helped with the founding of the first state government. He served as the first city archivist and was first alcalde (mayor) prior to the incorporation of Los Angeles on April 4, 1850. Later, he was mayor of Los Angeles and superintendent of schools. He died January 28, 1868.
Hayes Drive: Benjamin Hayes, born in Baltimore, Maryland in 1815, was an attorney in the early 1850's and later a district judge (1855) in Southern California. He was judge during a trial that year when two black women, Biddy Mason and Hannah who were former slaves were brought to California by their former owner Robert Smith and he wanted to return to Texas. Texas was a slave state and these two women did not wish to return to their former slavery. Judge Hayes ruled in their favor that they were free and could remain in Los Angeles. Able Stearns, assisted Judge Hayes in this case. Judge Hayes died in Los Angeles in 1877 leaving valuable historical manuscripts to California State University.
Moore Drive: Benjamin Moore, born Alabama, 1824, fought against the Californios during the Mexican American War. He was a leader of the criminal bar, a member of the first California legislature, and helped frame the State Constitution. He was an uncle to J Harvey McCarthy and came to California from Florida and once jumped into bull ring and kilIed the buII with a Bowie knife. He died in battle by the hand of Andres Pico in Stockton in January 2, 1865.
Commodore Sloat Drive: John Drake Sloat, born in Rockland County, New York 1781, American naval officer (1761-1867) commander of the Pacific squadron 1844-1846 and commander of the celebrated frigate "Constellation". A great fighter and patriotic American, in 1846, when war with Mexico was threatening he took possession of California for the United States when he raised Old Glory at Monterey, California July 7, 1845 on the grounds that the British were about to do so. In the war he took San Francisco, and held it until relieved by Robert F. Stockton. He retired in 1861 but was promoted commodore in 1862, and rear admiral in 1866 on the retired list. Sloat was responsible for a proclamation to have land titles guaranteed. Many rancheros lost title to their lands as a result of this edict. He died on Staten Island, New York in 1867.
Schumacher Drive: John Schumacher was a gold prospector during the big gold rush days of the mid 1800's. Member of Stevensons Regiment, US Volunteers for Mexican War Service. He came to California in 1847, mined gold on Sutter Creek then came to Los Angeles. where he served as a City Council person. Later, he became involved with and was responsible for the inception of the California grape growing industry (without irrigation.) He was born 1816 and died March 2, 1885.
Stearns Drive: Don Abel Stearns, born in Salem, Mass. In 1799, was a cattleman and an early pioneer who came to California in 1829 and arrived in Los Angeles in 1841 by way of the Santa Fe trail. He ran a warehouse in San Pedro for the skin trade that the Mexican government accused him of smuggling. The charges were dropped and Stearns was made the Administrator of Customs for Los Angeles. He fought on the side of the Californios to end Mexican rule. Don Abel latter owned Rancho Los Alamitos (Little Cottonwoods). He lived here with his wife Arcadia Bandini, who he married when he was 43 and she was 14. Through his skin trade he became wealthy, loaned money and when necessary foreclosed the property thus acquiring more rancheros. A merchant, a large land owner, member of the First State Constitutional Convention and a member of the State Assembly, he sent the first California gold to the Philadelphia mint in 1842. He was the first alcalde and with Stephen Foster indexed and developed the first city archives. His land holdings stretched from Laguna to Pomona. By 1868, due to drought, his livestock died and he was bankrupt. He put land into a trust and it was subdivided by the Los Angeles and San Bernardino Land Company. This began the Americanization of the Southland. Don Abel died in 1871, debt free having received $1.50 an acre for his land. Arcadia Stearns remarried and died in 1912 at the age of 84.
Del Valle Drive: Ygnacio Del Valle who was born in Mexico July 1, 1808, came to California in 1825 built one of the first homes on the downtown Los Angeles plaza. A Lieutenant in the California Mexican Army from 1828- 1840, Commissioner on Secularization of Missions in 1834. He inherited the Rancho San Francisco in the Santa Clarita Valley from his father. In 1850 he became the second alcalde under AbeI Stearns and they were the last two alcaldes. He was also the owner of Rancho Camulos, the home of Ramona. Rancho San Francisco was the setting for Helen Hunt Jackson's novel "A Century of Dishonor" about the mistreatment of the American Indians. This home is still standing. Ygnacio Del Valle who was the father of the Honorable R. F. Del Valle, died in 1880.
Warner Drive: John J. Warner, AKA John Jose Warner, born November 20, 1807, was a pioneer, a fur trapper, vigilante, and historian who came to California in the 1830's. He was an early advocate of and workers for a railroad to link the Great West with the East. Consul to California under Mexican rule, and owner of famous Aqua Caliente Rancho, he befriended Pio Pico in his later years and let him live at his home on the Plaza in Los Angeles. John Warner died April 11, 1895.
Carrillo Drive: Don Jose Antonio Carrillo was born in San Francisco in 1706. He fought for the Californios in the Mexican American War (1846). His claim to fame was his trickery during a battle near Palos Verdes. His army was smaller than the American army but he and his men had the horses gallop in a circle stirring up enough dust to look like a major threat. The Yankees retreated. Carrillo and Augustin Olvera were the Peace Commissioners who met with John Fremont on January 13, 1847. At this time a treaty was signed with Andreas Pico of the National Forces of California. Don Jose was Alcalde of Los Angeles in 1834 and hosted the wedding of Pio Pico and Senorita Maria Ygnacio Alvarado in February, of that year, at the Pico House. In 1835 and 1836 he was a member of the Mexican Congress from California and for 23 years was prominent in territorial and state politics. He died in 1863.
Barrows Drive: Henry D. Barrows, born February 23, 1825, was an educator and instructor at the La Puente ranch which was owned by William Workman, fln early pioneer. Workman lost this ranch in 1875 after giving "Lucky" Baldwin the mortgage. Barrows was a US Marshall under President Lincoln from 1861-1865, a successful merchant and as a noted historian, was President of the Historical Society of Southern California. Barrows became Los Angeles Schools superintendent in 1875. He died August 7, 1914.
Olympic Boulevard: Olympic Boulevard was formerly known as Country Road Drive and was officially changed after the 1930 Olympic Games in Los Angeles. The area south of Olympic Boulevard was bean fields.
McCarthy Vista: Daniel O. McCarthy was a forty-niner who became a publisher. Carthay Center, a real estate subdivision, vras named for him by his son J. Harvey McCarthy who died in 1935. Carthay, according to one historian, was a deliberate euphonious corruption of Carthy. The center strip of McCarthy Vista and the area now called Carthay Circle Park was donated to the City of Los Angeles and two memorials along with the bronze statue were also donated by the Native Sons of the Golden West (NSGW) . DanieI McCarthy was an outstanding figure in perilous times he worked tirelessly, and courageously to save California to the Union. He fought secession with pen and pistol, he published the "American Flag" at San Francisco, a Unionist paper that seceders burned. This miner, merchant, born in Raleigh NC, August 24, 1830, came to California 1850, San Diego, 1869. and died Los Angeles, August 13, 1919.
San Vicente Boulevard: San Vicente Boulevard was originally named for Eulalia Perry, M.D. and mid-wife. She was born in Lower California in 1735, came to California with the founders of San Diego Mission in 1769 and to San Gabriel Mission in 1771. She was secretary and accountant to the padres, mid-wife and doctor to the native women and lived a self sacrificing life to the age of 136 years. Eulalia Perry is buried at San Gabriel.
Fairfax Avenue: Fairfax Ave was the route that the elephants of the famous Barnum and Bailey Circus were marched. The boxcars were parked in Carthay Circle and the elephants marched to the circus grounds where the tents and the other animals were housed. This is now the site of the May Company Wilshire.
Wilshire Boulevard: Wilshire Boulevard was itself only two lanes wide leading from downtown Los Angeles to Santa Monica and the beaches. The area was suburban and covered with barley fields on both sides of Wilshire Boulevard. The zoning on Wilshire was changed from residential to commercial because of the changed use of Wilshire Boulevard which was widened to 6 lanes. It is also interesting to note that Wilshire Boulevard was planted with Palm trees.
La Cienega Boulevard: While La Cienega Boulevard is the official West boundary of the Carthay Circle there are no homes on that street. There are however, some impressionable sites such as the La Cienega Park (recently remodeled by the City of Beverly Hills).
In addition to the streets named for important people in the early days of Los Angeles and California history, Carthay Circle has six charming walkways that are within the Circle boundaries, going north and south from Wilshire to Olympic for easy access throughout the community. These walkways represent a unique feature of the neighborhood not found in other areas of Los Angeles. They are named for California Missions or important California Historical personalities. The historical aspect of Carthay Center is further emphasized by the naming of the pedestrian ways that cut the long blocks for oId California Missions.
Capistrano Way: Named for the Mission San Juan Capistrano, founded November 1, 1776 by Father Junipero Serra.
Carmel Way: Named for San Carlos de Carmel Mission, founded in 1770 Father Serra and Father Juan Crespe.
San Diego Way: Named for the San Diego Mission, founded July 16, 1769 by Father Serra.
San Gabriel Way: Named for the San Gabriel Mission,founded September 8, 1871 by Father Pedro Benito Cambon and Father Angel Somera.
Santa Ynez Way: Named for Mission Santa Ynez, founded September, 1804 by Father Serra.
Ramona Court: Probably named for Ramona Parlor 109 – Native Sons of the Golden West who were appointed to select the names of the of the streets of the Carthay Center which honored the worthy pioneers of the State, County and City.
[source: http://www.carthaycircle.org/CCHistory.pdf]
Need help buying or selling a house in Carthay Circle? I would be very happy to help you. You can reach me at 310.461.4100
Latest posts by Nikki Bascon
(see all)